Flow cytometry
Manager: Karen Gaget (AI INRAE)
Scientific advisor: Anna Zaidman-Rémy
Objectives: The flow cytometer is shared within the Biosciences Department. It is used both for teaching in the Biosciences Department (in particular the Biology-Biochemistry bench classes) and for research, in BF2i but also in the other laboratories of the Department. It allows counting and analyzing the morphological (size, granularity) and fluorescence (intrinsic or after labeling) parameters of eukaryotic or prokaryotic cells in suspension. At BF2i, it is used in particular to count host cells (e.g. bacteriocytes or hemocytes), and bacteria isolated from symbiotic tissues.
Techniques and equipment: Flow cytometer BD Accuri C6. 6-parameter benchtop analyzer cytometer (SSC, FSC, and four fluorescences). Lasers 488 nm / 640 nm. Easy to use, as no PMT settings are required (neither for size/complexity nor for fluorescence). Possibility of absolute cell counting.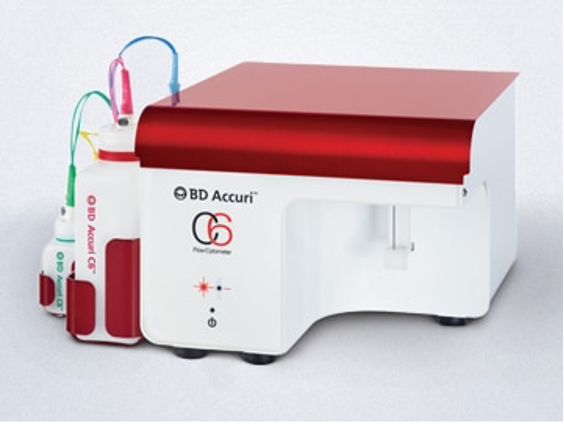 Access conditions: Access is subject to a contribution to maintenance costs. The cytometer is available on request to Karen Gaget (karen.gaget@inrae.fr) and Anna Zaidman (anna.zaidman@insa-lyon.fr). We present to each new user the specific rules of use for this cytometer but we do not provide extensive training in cytometry, except in the context of project collaboration.
Location: The cytometer is located in UMR203 BF21, in the Louis Pasteur Building of the Lyon INSA (Pasteur, Level 1 & Room 406.01.08).